Disability Discussion
Why Is Your Income Your Greatest Asset?
From our experience most young physicians have the same financial concerns: income protection, loan repayment, mortgage/rent, partnership buy-in, child's education, retirement, and other obligations. All are considerable obligations and to meet these obligations requires your ability to work. If you cannot, you should have disability insurance to replace what you have lost. It could be difficult as a young physician to contemplate being faced with an injury or illness so severe that it changes the course of the career you've worked so hard to establish. That is why disability insurance should be considered an important component of a comprehensive financial plan.
This table shows how much money you would earn if you work until age 65.
| Age | $150,000 | $200,000 | $250,000 | $300,000 | $350,000 | $400,000 | $500,000 |
| --- | --- | --- | --- | --- | --- | --- | --- |
| 30 | 5,250,000 | 7,000,000 | 8,750,000 | 10,500,000 | 12,250,000 | 14,000,000 | 17,500,000 |
| 35 | 4,500,000 | 6,000,000 | 7,500,000 | 9,000,000 | 10,500,000 | 12,000,000 | 15,000,000 |
| 40 | 3,750,000 | 5,000,000 | 6,250,000 | 7,500,000 | 8,750,000 | 10,000,000 | 12,500,000 |
| 45 | 3,000,000 | 4,000,000 | 5,000,000 | 6,000,000 | 7,000,000 | 8,000,000 | 10,000,000 |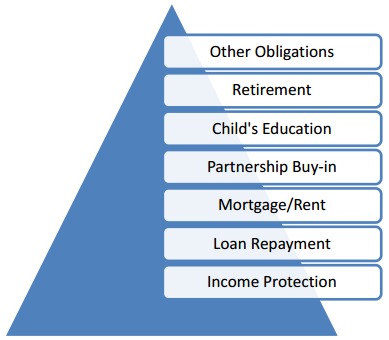 Why should a physician purchase an Individual Disability Insurance policy? Assuming you are 32 years old and your current income is $200,000: We know that you have spent the last 14 years becoming an attending physician. We know that if you practice to age 65 your potential income is $6,600,000.00. It is probable that you have substantial student loans. Taking into consideration the time you have committed, your income potential and the obligations you have assumed, it is imperative to purchase a comprehensive individual disability policy.

When should a physician purchase an individual disability policy? The answer is NOW! Why? Take advantage of your good health so you have no difficulty qualifying for a policy. Lock in your premium at your current age. Once disability insurance is purchased, your premium will not increase unless you purchase additional insurance, as your income increases.
I've had the pleasure of being Mike's client for many years now, and have benefitted time and again from his extensive knowledge of the ever changing disability insurance field, and more importantly by his honesty and genuine concern for my best interest.
Mike has been great to work with to obtain disability and life insurance. I was presented with quotes from several different companies, and he explained all of the details of the policies and pertinent classes to make sure I was getting exactly what I needed. I would highly recommend his services to anyone.
Mike has provided me with great service for my life and disability policies. I never had to put up with the hard sell, or any kind of pressure from him. Since he works with multiple insurers, Mike is always looking to get the best policy for me. I have recommended his services to many of my friends, and think everyone would be satisfied with Mike Mazzarella.

Steve Bader, M.D.

,

Anesthesiologist, West Virginia
Mr. Mazzarella assisted me with applying for my disability policy efficiently and with professionalism. I was pleased with how easy the whole process was.

April Horton, M.D., Ph.D.

,

Anesthesiologist, New York
Mike Mazzarella is thoroughly versed in the disability insurance marketplace and provides exceptional service to his clients---he is highly recommended.

Timothy McCullough, D.O.

,

Urologist, Connecticut
Mike provided quality service with his personal touch and I was impressed with his expertise.

Peter F. Lalor, M.D.

,

Surgeon, Ohio
Working with Mike was a great experience. He made the whole process easy, understandable, and we managed to get my disability insurance quickly and without problems. Most importantly, Mike was there to answer my questions and give advice. I would recommend Mike Mazzarella to anyone looking to get disability insurance and I thank him for all his help.

Jon Elias, M.D.

,

Pediatrician, South Carolina
I truly enjoy working with Mike. He handles both my disability and life insurance, and I have recommended him to all my friends. He is extremely knowledgeable and always accessible. He makes the process very simple and easy to manage. He has access to multiple companies, and not only has complete understanding of all the policies, but explains it in a concise comprehensible way for a busy physician to make an educated decision. It can be very hard to find an honest and professional Physician Consultant, but it is because of this I hold Mike in the highest regard.

Steven Falowski, M.D.

, Neurosurgeon, Pennsylvania
Can Residents/Fellows purchase individual disability insurance if their current employer provides group disability? Yes. Most companies have special issue limits for Residents and Fellows. No income documentation is required and your group disability benefit is not used in the calculation of how much individual disability insurance you can purchase.

What can you expect the premium to be? Individual disability insurance policies typically cost 2% of current income.

How long does the application process take? The application process usually takes 4 – 6 weeks.

What are the steps in the application process? Completion of application Paramedical exam Personal history interview

Who owns the disability policy? You do.

Is the disability policy portable? Yes. Since you own the policy, if you move to another state, the policy moves with you. You just need to notify us of your new mailing address.

Will you be able to obtain coverage if you have a pre-exsisting condition? Yes. Depending on the medical condition, most carriers can still offer you some type of coverage. For many medical conditions a policy can be issued with an exclusion for the medical condition. An exclusion allows the carrier to provide coverage except for a disability which occurs from that pre-exsisting, medical condition. We represent many carriers and there is most likely a carrier that will be willing to make an offer.